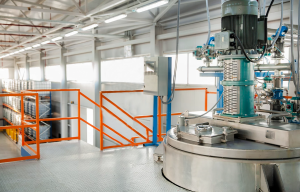 Commissioning a new manufacturing plant, a series of factors should be considered to streamlined processes and leverage the available space for efficient production. In order to design a manufacturing centre, not only we need to determine specific characteristics of the product manufacturing process, but also solutions in terms of safety, health and environmental protection that conform with regulations and legislation in force in the construction place and that allow optimal performance of employees at the plant and of external agents.
With more than 25 years of experience in the industrial sector, Raymer Engineering Corporation offers a comprehensive service for turnkey construction of complete manufacturing plants or for the incorporation of facilities into existing plants adapted to your needs.
Broad steps in Paint Manufacturing Turnkey Plant:
Manufacturing plant design and planning
Implementation and commissioning
Building the industrial manufacturing plant
In turnkey projects, each customer with a complete design of the facility and all the essential services for sufficient implementation. In this way, we guarantee that all the building work carried out on the manufacturing plant by the customer is a true reflection of the project and emptying equipment (to reduce waste and waste treatment costs), liquid and solid management systems, and so on.
Contact Raymer Engineering Corporation Request further information about Paint Manufacturing Turnkey Plant projects and Contact Us at +(91) – 9220814009 or send enquiry through the Enquiry Form.
About Raymer Engineering
Raymer Engineering were incepted in 1973. Since foundation for meeting the requirements of paint dispersers, manufacturing machines, we have remained committed to fulfilling client's requirements, while developing and sustaining long term relationships with honesty, integrity and respect. Through years of growth, dedication and innovation, we have registered a dominant position of one of the leading manufacturers, suppliers and exporters of Paint Manufacturing Machinery. With the strong support of skilled craftsmen and modern production technologies, we produce a broad spectrum of products such as Sand Mill, Ribbon Blender/Pug Mixer, Sigma Kneader, Twin Shaft Disperser, etc. Our business has experienced tremendous growth as we have continued to add new products and services to meet the demands of rapidly expanding customer base. 
Banking on the principles of continuous development and product improvement policies, we have consistently worked towards offering innovative products to clients. Moreover, continuous improvement of quality system through continuous monitoring has enabled us to meet the changing needs of industry. Thus, with innovative production techniques and quality intensive applications, we have been able to cater to the process equipment needs of various industries including chemical manufacturing, glass and ceramics, etc., in the national as well as international markets.