How to Optimise the Wet Grinding Process for Paint Production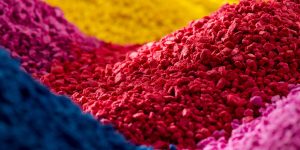 This Wet Grinding Process achieves a perfect and homogeneous distribution of the particles in the base liquid. In wet grinding process the product is converted from solid to liquid like paints, inks, nail varnish, enamels, among others. In this process, agglomerates that were not separated in the dispersion phase are broken by applying extra energy.
By using beads or micro beads, which are speeded inside a chamber thanks by the movement of the blades and pegs located within the chamber. The resultant turbulent and frenzied movement which produces a high shearing and force power, breaking the bonds between particles, thus reducing the size of the agglomerates and bringing the particles to their initial size. The smallest conceivable agglomerate size is key in achieving a more effective wet grinding process.
Our team provides our clients with a team of technicians and consultants who recommend the option that best suits each project when choosing a grinding and dispersion equipment.
Contact Raymer Engineering Corporation Request further information about Wet Grinding Process for Paint Production projects and Contact Us at +(91) – 9220814009 or send enquiry through the Enquiry Form.
About Raymer Engineering
Raymer Engineering were incepted in 1973. Since foundation for meeting the requirements of paint dispersers, manufacturing machines, we have remained committed to fulfilling client's requirements, while developing and sustaining long term relationships with honesty, integrity and respect. Through years of growth, dedication and innovation, we have registered a dominant position of one of the leading manufacturers, suppliers and exporters of Paint Manufacturing Machinery. With the strong support of skilled craftsmen and modern production technologies, we produce a broad spectrum of products such as Sand Mill, Ribbon Blender/Pug Mixer, Sigma Kneader, Twin Shaft Disperser, etc. Our business has experienced tremendous growth as we have continued to add new products and services to meet the demands of rapidly expanding customer base. 
Banking on the principles of continuous development and product improvement policies, we have consistently worked towards offering innovative products to clients. Moreover, continuous improvement of quality system through continuous monitoring has enabled us to meet the changing needs of industry. Thus, with innovative production techniques and quality intensive applications, we have been able to cater to the process equipment needs of various industries including chemical manufacturing, glass and ceramics, etc., in the national as well as international markets.