Author: Raymer Engineering Corporation | Published on : 30 Oct 2021
An emulsion is a kind of colloid formed by combining two liquids that usually don't mix.
In an emulsion, one liquid includes a dispersion of the other liquid.
The procedure of mixing liquids to form an emulsion is called emulsification.
However, the liquids that form them may be clear, emulsions appear coloured or cloudy because light is scattered by the suspended particles in the mixture.
Well-being and environmental friendliness ensured by using water as a solvent.
Thickness can be simply adjusted.
Suitability for sticking and coating applications derived from emulsion's property of forming a film when dried.
Admirable miscibility with solvents, pigments, additives, etc.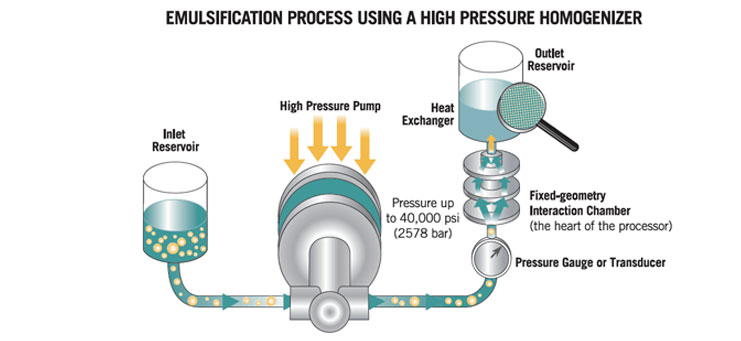 Twin Shaft Disperser
Twin Shaft Dispersers are commonly used in the emulsion making process where centrally located shafts carry out the procedure of dispersion and low-speed shafts carry out the procedure of mixing.
Slow Speed Shaft:
The slow speed shaft has a semi anchor shape. It is fitted with scraper blades to clean the shell walls. The function of the slow speed shaft is
1) Scrapping the powder off the shell walls with the help of PTFE scrapers
2) Bringing in the material towards the High Speed blade
3) Acting as the blender after addition of emulsion.
High Speed Shaft
The high speed shaft is fitted with an agitator disc for dispersion.
Emulsion Making Process:
The liquids are added first and as the powders are added gradually, both shafts are made operational. The high speed shaft does the shearing\dispersion while the slow speed shaft helps bring the material toward the agitation disc to enable dispersion. Once the dispersion is complete and homogeneous, the high speed shaft is switched off. The emulsion is added thereafter, and it is allowed to run for some more time until the emulsion is completely blended with the material.
Machines used in Paint Making / Manufacturing
LET'S TALK ABOUT YOUR PROJECT
We would love to help you with your specialist application, enter your details below; we will
be in touch – no obligation.
About Raymer Engineering Corporation
Raymer Engineering Corporation was conceived in 1973. Since the foundation for meeting the requirements of paint dispersers and manufacturing machines, we have remained committed to fulfilling client's requirements, while developing and sustaining long term relationships with honesty, integrity and respect. Through years of growth, dedication and innovation, we have registered a dominant position as one of the leading manufacturers, suppliers and exporters of Paint Manufacturing Machinery. With the strong support of skilled craftsmen and modern production technologies, we produce a broad spectrum of products such as Sand Mill, Ribbon Blender/Pug Mixer, Sigma Kneader, Twin Shaft Disperser, etc. Our business has experienced tremendous growth as we have continued to add new products and services to meet the demands of a rapidly expanding customer base.
Banking on the principles of continuous development and product improvement policies, we have consistently worked towards offering innovative products to clients. Moreover, continuous improvement of the quality system through continuous monitoring has enabled us to meet the changing needs of industry. Thus, with innovative production techniques and quality intensive applications, we have been able to cater to the process equipment needs of various industries including chemical manufacturing, glass and ceramics, etc., in the national as well as international markets.
Note: Please note that the information on this document is for illustration purposes only as information may vary with individual products, their grade and applications industries or uses and therefore cannot be guaranteed as accurate. © Copyright 2021 © Raymer Engineering Corporation All Rights Reserved (Terms of Use). Recreation of any materials from the site is strictly prohibited without permission. Raymer Engineering Corporation products are sold exclusively through Raymer Engineering Corporation website. Use Terms | Privacy. Please contact us to discuss precise product specifications and requirements and obtain advice on which products are required to suit your exact application needs
[email protected]