Author: Raymer Engineering Corporation | Published on : 30 Oct 2021
Raymer Engineering Corporation manufacturing and exporting high quality Cement Making Process worldwide.

Raymer Engineering Corporation – one of the largest manufacturers and suppliers of Cement Making Process in Mumbai, India.
Raymer Engineering Corporation is India's leading Industrial Cement Making Process exporter.
The blanketed ball mill is used to make cement paint as it is in powder form. The ball mill is a drum which is rotating on the shafts between bearings. The ball mill is powered by an electric motor and gearbox along with a set of gears to arrive at the correct RPM.  The grinding media is made of pebbles, which help in the separation of agglomerates in the powder. As the drum is rotated these pebbles fall on each other generating an impinging action which helps in the separation of the particles, as well as the blending of cement with the colorant.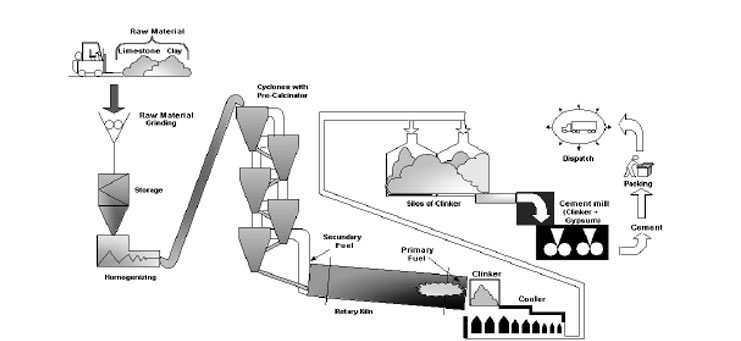 Process for making Cement paint
The cement and the colorants are added in the ball mill through the charging manhole. Once that is done the manholes are shut and the ball mill is allowed to rotate. As the mill rotates the powders are uniformly blended to form a homogeneous powder. Once the desired finish is attained the manholes are fitted with the sieves and the mill is allowed to run again. Due to the rotation the powder is discharged through the sieves. The mill has a shroud with a hopper(cover)where the material falls, which is then collected in a trough, at the bottom.
Machines used in Paint Making / Manufacturing
About Raymer Engineering Corporation
Raymer Engineering Corporation was conceived in 1973. Since the foundation for meeting the requirements of paint dispersers and manufacturing machines, we have remained committed to fulfilling client's requirements, while developing and sustaining long term relationships with honesty, integrity and respect. Through years of growth, dedication and innovation, we have registered a dominant position as one of the leading manufacturers, suppliers and exporters of Paint Manufacturing Machinery. With the strong support of skilled craftsmen and modern production technologies, we produce a broad spectrum of products such as Sand Mill, Ribbon Blender/Pug Mixer, Sigma Kneader, Twin Shaft Disperser, etc. Our business has experienced tremendous growth as we have continued to add new products and services to meet the demands of a rapidly expanding customer base.
Banking on the principles of continuous development and product improvement policies, we have consistently worked towards offering innovative products to clients. Moreover, continuous improvement of the quality system through continuous monitoring has enabled us to meet the changing needs of industry. Thus, with innovative production techniques and quality intensive applications, we have been able to cater to the process equipment needs of various industries including chemical manufacturing, glass and ceramics, etc., in the national as well as international markets.
Note: Please note that the information on this document is for illustration purposes only as information may vary with individual products, their grade and applications industries or uses and therefore cannot be guaranteed as accurate. © Copyright 2021 © Raymer Engineering Corporation All Rights Reserved (Terms of Use). Recreation of any materials from the site is strictly prohibited without permission. Raymer Engineering Corporation products are sold exclusively through Raymer Engineering Corporation website. Use Terms | Privacy. Please contact us to discuss precise product specifications and requirements and obtain advice on which products are required to suit your exact application needs
[email protected]